PokerNews Strategy: Et Stort Tak, Nano Vinder $200 Rebuy Samt Endnu Mere PLO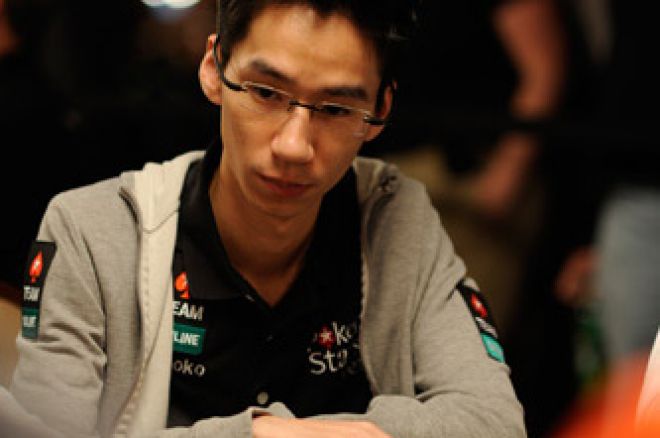 Mens gutterne slapper af efter deres tur til Miami tager vi et kig på et stort tak vi fik fra en af vores læsere, flere gode videor og et stort resultat til, det hele i denne opdatering fraPokerNews Strategy
En Stor Tak Til PokerNews Strategy Teamet
Ovre på PokerNews Strategy ønsker vi at kunderne får en stor del i hvad der foregår. Vi vil prøve at lave de videoer i ønsker. Derfor er det godt at se feedback som denneforum post fra mrfisher111, who som er en af de mest profilerede postere på forumet:
Just wanted to thank all the pros on here for all there help. Especially randy since i decided to try to profit using his style. I'm not 12 tabling but I'm 4 to 5 tabling constantly switching gears. over last 25 k hands I'm about 18bb/100 and what he tells you works. The biggest problem i had was tilting. I'd lose a little bit id have to win it back. No longer am i like that. I realize we all will lose doesn't matter how good you are just poker full of variance especially online . So i learned to walk away a loser if I'm running bad or take a bad beat I just leave. If anyone on here wants to win in cash you have to control yourself from tilting. It took me more practice of controlling that then anything. Honestly this is an easy game to profit from if you can control your tilting. I am noticing that now. And bank rollling your money right. If you can't do that you can't profit this doesn't matter how good you are. That's the key.
So i just came on to say thanks cause i can do this for a living and don't have to work anymore this is my work now. It's amazing how all the hard work you put into it will pay off but its like going through hell to get there. Now i know exactly what to do in every hand, against a certain type of player, based on my position, whether they won or lost, al these things run through my head automatically now where it's like my instincts tell me what to do. Really weird but I'm like a human computer now thanks to poker strategy! thx for turning me into a computer But to all the members you have to play a ton of hands to get good. That's another very important thing putting in hrs every single day that's what gives you instinct on what to do. Sometimes i make 0 mistakes and i still lose so minimizing mistakes very important.
Dette er fantastisk at læse. Hvis du har en kommentat til PokerNews Strategy, god eller dårlig vil vi gerne høre den på: vores forum.
Nanonoko Vinder $200 Rebuy På PokerStars
Frisk efter at være tagget i vores forum, har Randy 'nanonoko' Lew haft travlt online. Læsere på hans blog vil vide at han siden sommer har gjort meget ud af hans MTT-spil, hvilket har givet bonus eftersom han for nyligt vandt den massive $200 rebuy på PokerStars og vandt $37.582.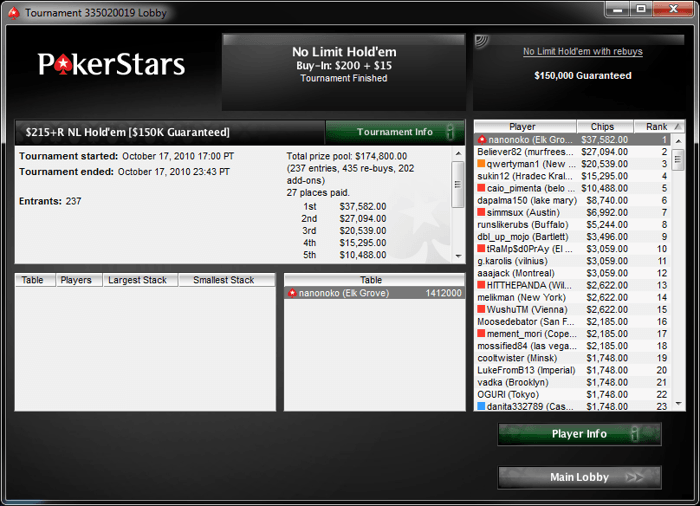 "The 200r is one of the toughest line ups on Pokerstars so this is a pretty big accomplishment given how much time I've put in since June when I started putting in a lot of time into MTTs. It's nice to come back from vacation and immediately put in a great session which brings me to the point that sometimes it's best to take a short break or something to entertain yourself so that your mind can reset and come from a fresh start!"
Nye Videoer Denne Uge
Mere Pot Limit Omaha til dig eftersom Josh "LitleBastrd" Tieman er tilbage. Denne gang med en $0.50/$1 6 max PLO session, som fokusere på hvordan man slår low til mid stakes PLO.
Den meget ventede part 2 af Mark "goshmr5" Goshdigian's 'Tanker Med Scott' serie er oppe. For dem som ikke ved det, er det en unik videoserie hvor Mark studerer cash-game handhistories med hans ven Scott, som tager springet fra SNGs. Denne video er især interessant, fordi den putter dig i spottet som Marks ven Scott som kravler op af levelsne i cashgame.
I denne uge har vi også en video fra Kane "Nascar_1949" Kalas som tager dig igennem processen hvor han spiller 6 max $5/$10 og $10/$20 på både PokerStars og Full Tilt Poker.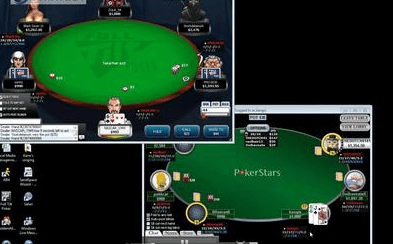 PLO PLO PLO
Vi siger det hele tiden fordi det er værd at sige. Vores PLO forums er det bedste på nettet. Uge efter uge er spørgsmål og handhistories besvaret af top-navne som Scott 'URnotINdanger2' Palmer og Josh "LitleBastrd" Tieman. I denne uge har Josh haft travlt med at besvare på alle forum-posts. Så kom igang med at poste og få dit spørgsmål besvaret!
Udover at PokerNews Strategy har nogle af de bedste online-spillere i verden er teamet lige blevet forøget med Mental Coach Jamie Glazier og Lock Poker Proer. Opret dig til PokerNews Strategy idag og åbn op for din pokerfremtid.