PartyPoker Big Game V og PokerNews Big Game Interaktiv En Stor Success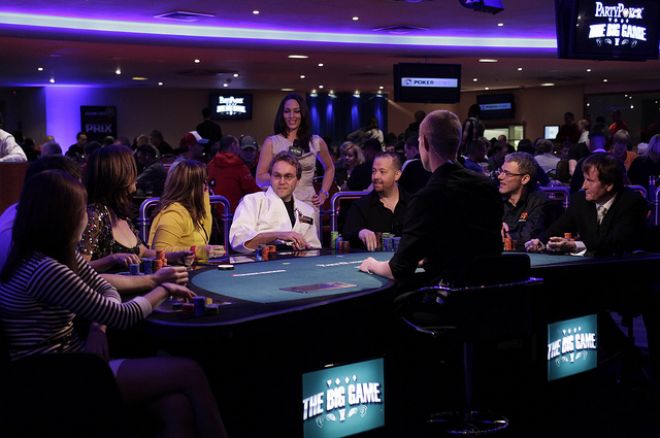 Fredag d. 15. april klokken 21.00 begyndte PokerNews sit livestream fra PartyPoker Big Game V, et live cashgame afholdt på Dusk Till Dawn i Notingham, England. Udover at blive livestreamet til seerne i 48 timer var PokerNews Big Game Interaktiv en stor succes, hvor seerne fik mere end blot et kig på det spændende cashgame. Kombineret med at aktion-præget cashgame gjorde dette til en af de bedste pokeroplevelser længe.
At gøre dette event så godt ville ikke være sket uden hjælpen fra PartyPoker og Matchroom Poker. Spillerne havde direkte adgang til at kunne se hole-cards fra spillerne, fuld gratis og tv-kommentarer fra Jesse May. Igennem showet fik May hjælp fra en række andre medkommentatorer til analyse og underholdning.
Barry Carter snakkede med Eddie Hearn, Direktøren fra Matchroom Sport for at snakke om den store success:
"I think it's fantastic, I mean, we've always looked at streaming our events and we trialed it in a WPT. 'Over the moon' was the response from the poker community," said Hearn. When asked about the interactive element, here's what Hearn had to say.

"The interaction element is a must in this sort of thing. I just think, the event itself is a TV show and it's definitely the most interactive event of its time. And to stream it now, full jet out with the best players in the world, poker fans get to watch every single hand and I think that's the beauty of it. You watch TV shows over an hour or two hours, after a while you think 'Well, I wonder what happened here.' Poker fans want to see everything, even if it's a raise-fold, they want to see the hands. To watch every hand over 48 hours and the level of play and the personality of these guys, it's ground-breaking.

"What I like about the mix of the votes is one time you're finding out what the players think and another time you're finding out what the public thinks. So you're getting that mix and I think that's quite interesting. I like the way they integrated with each other. Players want to get off a player who is maybe quite good, but quite tight and the fans might want to get off someone who is more a loud mouth, arrogant and annoying. So, you actually find out who's popular out there and I think a few people got a few shocks this week."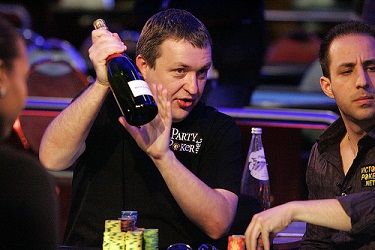 Livestreamet hos PokerNews fik hundredvis af besøgende fra spillere, som ville have en finger med i spillet. Det er meget sjældent at seere kan se et livestream fra et cashgame eller turnering og chatte med deltagerne. Der var god gang i chatten hele døgnet rundt og stemningen blev kun bedre i løbet af weekenden.
I den sidste time af spillet i søndags var der mere end 3.400 seere i chatten. I løbet af weekenden blev mere end 10.000 chat-beskeder modtaget. Disse numre af fantastiske og også et signal til, at livestreaming af vejen frem for livepoker.
Blandt dem, som deltog i det 48 timer lange cashgame var Tony G, Annette Obrestad, Sam Trickett, Luke Schwartz, Dave "Devilfish Ulliott, Sam Trickett og Mike Matusow. En af de største hænder, som fik gang i chatten var et tre-vejs all-in, hvor selveste Tony G var indblandet.
Kristijonas Andrulis åbnede med at raise til £150 efterfulgt af et reraise fra Rob Yong til £700 med


. Et par sæder længere fremme sad Martins Adeniya, som callede med


efterfulgt af Tony G. Tony G gik all-in med sin stack på £80.000, som dækkede alle andres stacke. Dette vakte stor interesse på bordet og i chatten.
Yong tænkte lidt før han kaldte all-in. Adeniya tænkte også et par minutter, mens Tony G snakkede løs i det, som lignede et psykologisk spil for at få Adeniya til at calle. Den unge stjerne lavede callet og fik dermed skabt en pot på massive £63.000. Boardet kom





og Tony Gss esser holdte hjem og han kunne derved tilføje endnu en megapot til sin stack.
Bl.a. takket være denne pot blev det faktik, at Tony G var den klart største vinder efter 48 timers spil. Han tog mere end £150.000 med sig hjem.
Største Vindere
| Spiller | Profit |
| --- | --- |
| Tony G | £150.450 |
| Jennifer Tilly | £66.925 |
| JP Kelly | £27.775 |
| Robert Williamson III | £26.350 |
| Roland De Wolfe | £25.675 |
| Kristijonas Andrulis | £18.625 |
| Ben Carpenter | £16.875 |
| Andy Moseley | £12.625 |
Som nævnt var der mere end blot livestream for seerne. Samtidig med cashgamet blev der afholdt PokerNews freerolls på PartyPoker. Lørdagens freeroll havde 1.356 deltagere, mens søndagens felt var steget til 1.898 – det største felt nogensinde for en PokerNews freeroll.
Efter de 48 timers spil fik Carter snakket med May om hvordan han havde oplevet hele eventet. På trods af at May blot havde fået et mindre powernap i løbet af de 48 timer gav han os et meget fyldestgørende svar.
"This is what poker can be. We've all been excited for about ten years for poker and hole cards and poker on TV, but the drama. Poker is not just a technical game, the drama of a reality show over 48 hours, to me, it's like you're just there. You see not just the hands, but everything that builds up to it. I just think there were so many great stories that went on. It just gives toy so much energy to watch it. It's been a great two days. And then the atmosphere — you can't give up that Dusk Till Dawn was the venue for this. The vibe in here, even among the people. You know, people have been saying that, well, poker's not a great live audience thing, but this was. This was a live audience thing and this is poker as a sport."
Med den store succes fra PartyPoker Big Game livestreamet og PokerNews Big Game Interaktiv er vejen åbnet for hvordan poker skal opleves i fremtiden - hvilket gør at vi nok kommer til at se meget af denne slags poker i den kommende tid