Strategy with Kristy: Vanessa Rousso, Liv Boeree, & Lex Veldhuis snakker om livet på farten
Kristy Arnett - Oversat af Mark Jensen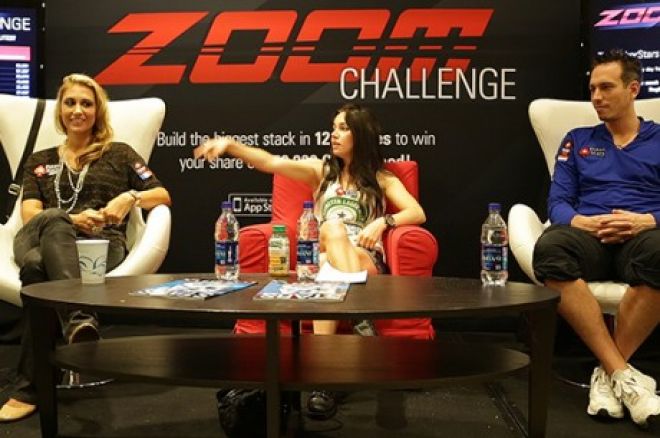 For mange pokerspillere er deres "hjem" i lange perioder hoteller og kufferter, især for dem som rejser verden rundt for at spille turneringer. I løbet af 2013 PokerStars Caribbean Adventure afholdte PokerStars en spørgsmål-og-svar session i selskab med deres proer vedrørende forskellige emner. I én af disse sessioner diskuterede Team PokerStars Proer, Liv Boeree, Vanessa Rousso and Lex Veldhuis, livet på landevejen som professionel pokerspiller, mens der samtidig blev fortalt et par interessante historie fra deres rejser.
Podcasten er blevet gjort tilgængelig i denne uges udgave af Strategy with Kristy. Her er et uddrag (teksten er på engelsk):
Lee Jones: Tell us about your worst trip. You can either say, in general, the place that you dread going to, or one specific trip you.
Veldhuis: Well, I had one unfortunate trip where I had to go from Amsterdam to Austria, which is normally a two-hour trip. It was during off season though, so I had to have a connection in Frankfurt. I thought this would be no problem. It was for a cash-game show, so I said I would play because I didn't have anything to do and it sounded interesting. I ended up having a 13-hour layover in Frankfurt, and then the flight got canceled because of bad weather. For what's usually a 2-hour trip, I ended up stay in the airport for 18 hours. So, I'm probably never going there again.
Boeree: It's hard to say a least favorite place. I've definitely had a bunch of ones where I just thought, "Oh this place is awful, get me out of here." In terms of hotels, I think the place that takes the biscuit is Sanremo. Actually, kind of a funny story, the first time I went to Sanremo, which incidentally turned out quite well for me... [laughs]
Jones: ...Yes, you won the tournament.
Boeree: Right, so I'm not going to complain too much, but that year I stayed in the cheapest hotel I could find. I wasn't even meant to be going there. The volcano went off so I couldn't fly home. I was with a friend, Liz Lieu who said we should take a bus there. It ended up being three buses and two trains. The trains were on strike, so it took 12 hours to get across 300 miles. So I get there, take a shower, and there are no towels. I call down and ask for some, and they told me they were in the bathroom. I look again, but there are nothing but small hand towels. They were tiny, and there was no softness to them. It was like a head scarf. Apparently that's what they use.
Rousso: [laughs] Actually, the person I was staying with and I shot a video of me jumping out of the shower, but with clothes on just pretending, and I pulled out the little towel. I was just like, "I don't really know what I'm suppose to be doing with this."