Main Event
Dag 1b fuldført
Ruben Visser

251,500
51,500

Nicolas Chouity

233,400
125,400

202,400
17,400

Jean Laurent Comparetto

192,000
-8,000

Victor Ramdin

190,500
10,500

188,700
8,700

184,600
4,600

179,000

170,300

David Vamplew

166,700
6,700

Alain Roy

165,300
-9,700

164,800

Vanessa Selbst

161,500
6,500

161,000

150,300

Carter Phillips

145,800
5,800

145,100

143,400

Francesco Nguyen

PokerStars Online Qualifier

140,200

140,000

138,400

136,100

Joe Cada

135,500
30,500

134,100

131,000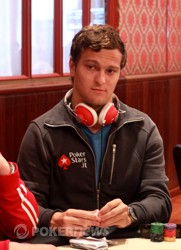 Wow! What a day it has been today!
The action was fast and furious right from the start and it ended exactly the same way. Team Pokerstars Pro Ruben Visser stealing the chip lead from Stefano Alberto Servalli just after Thomas Kremser had announced to the players that there would be three more hands.
In those last three hands Visser eliminated the player seated to his direct left to increase his chip count to 251,500, and it was enough to earn him a place at the top of the leader board. In fact his haul even surpassed that of yesterdays chip leader Leonid Bilokur, making him the chip leader when we return for Day 2 tomorrow. Second place appears to be occupied by EPT Grand Final champion Nicolas Chouity on around 235,000.
Other players through to Day 2 are David Vamplew, Barry Greenstein, Victor Ramdin, Vanessa Selbst, Carter Phillips, Joe Cada, Max Lykov and Ted Forrest.
249 players have survived day 1b, and 211 survived day 1a, so 460 players will return at 12:00 (CET) tomorrow for day of EPT San Remo.
| | | | | | |
| --- | --- | --- | --- | --- | --- |
| Ruben Visser | | | | 200,000 | 65,000 |
| | | | | 185,000 | |
| | | | | 180,000 | |
| Victor Ramdin | | | | 180,000 | 70,000 |
| | | | | 180,000 | |
| Alain Roy | | | | 175,000 | 25,000 |
| David Vamplew | | | | 160,000 | 95,000 |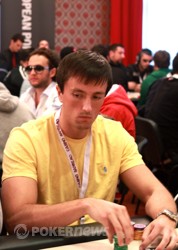 Carter Phillips is up to 140,000 after finding aces against Johan Berg's pocket kings. The board ran out five bricks, and Berg was left with nothing.
David Vamplew is one of those players who has a very specific game face. It is difficult to explain but it is serious, professional and mesmerising to watch. Then when the action has finished he reverts back to type; a very friendly looking smily face. We have just seen serious face and smily face, in a very significant pot against Tsubasa Manabe, that has launched Vamplew towards the right end of the leader board.
Manabe raised to 2,200 and David Vamplew made the call from position. The flop was



and Manabe made a c-bet of 3,600 and Vamplew made the call. The turn paired the board when we saw the

and Manabe checked to Vamplew. Vamplew looked at Manabe with his serious game face before betting 9,200 and Manabe called. The river was a very exciting

and Manabe once again checked to Vamplew. Vamplew's serious face was now garnering the attention of Ted Forrest who kept looking at the Scot with a smile from ear to ear apparently mesmerised by it. Vamplew bet a whopping 19,400 and Manabe made the call. Vamplew turned over


for the straight and Manabe flicked his cards to the Dealer.
Vamplew 171,000
Manabe 56,000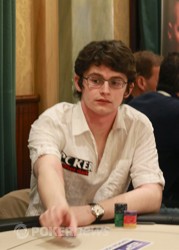 David Vamplew is up to 135,000 after finding


in the big blind against Tsubasa Manabe's


on the button. After an inevitable raising war, they were on their backs and Vamplew's hand held on a





board. Manabe drops a big chunk of chips and is back under 100,000.
Mads Wissing open-shoved for his last 14,800 with


and got looked up by IPT Leaderboard winner Tamas Lendvai on the button holding


. Not looking good for Wissing, but the board came down





to make Wissing two pair and double him up to 32,000.
"Unlucky," Wissing told his opponent. Lendvai silently agreed.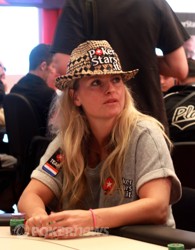 Fatima Moreira de Melo has been knocked out after she bet 11,000 then called all-in for 35,000 with


on a



flop against Constantino Russo's


. The

turn and

river changed nothing and our favourite Dutch lady has been eliminated.
Level:

9
Blinds:

500/1,000
Ante:

100