Well that was an exciting finish to our Day 5. Unless your name happens to be Lee Goldman.
On the final hand of the evening, John Dibella came in for 250,000 under the gun, and Lee Goldman three-bet shoved for 1.025 million from middle position. In the small blind, Ruben Visser asked for the count, but he eventually ducked out of the way to let Goldman go heads up for his tournament. He was well ahead.
Showdown
Goldman:



Dibella: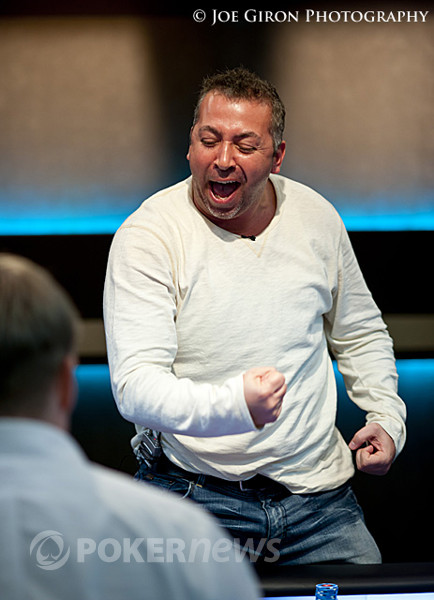 Dibella was hating his spot, and he had about half his own stack committed to the underpair. The



flop was a swing and a miss, and so was the

turn. By this point, fans of both players were crowding in along the edges of the stage, yelling for cards and craning their necks upward to catch a glimpse of the river card.
It was the

, and a chorus of shock and awe exploded from the set! One of those shouts came from Dibella who let out a big roar and a pump of the fist. The miracle two-outer struck on the river, and the set of nines earn Dibella the knockout.
It comes at the expense of Lee Goldman, and he's been stung out of here in ninth place on the final table bubble. That's good for $101,000, but i might be a while before that becomes any consolation to the young pro. It's his second six-figure cash in the last three months, but it's left him on the outside looking in for tomorrow's final