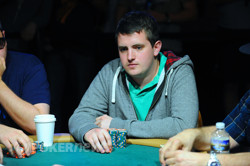 Day 4 begins with five players returning to try to claim the bracelet. A full ten levels were played on Day 3 and they didn't crown a winner. Thomas Middleton returns as the chipleader with over four million in chips, earning the chiplead in a giant pot against Thomas Miller near the end of play.
Joining them at the final table are Eddy Sabat, Mikhail Lakhitov and Hasan Babajane.
A raucous crowd railbirds made for a unique experience on Day 3. Today they'll have to be a bit more restrained due to the fact that they will be playing on the ESPN Feature Stage.
Play is scheduled to begin at 2:30 p.m. PST and we'll play until a winner is crowned. Follow all the WSOP action live on Pokernews.com